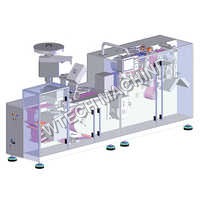 NT240 Blister Packing Machine
Product Description
NT 240 Blister Packing Machine is especially designed to provide more flexible and durable blister packaging services. It is constructed with excellent quality raw material with the use of highly advance engineering techniques. The Machine can work on various foils like PVC, PVDC coated PVC, Pet, PP, COC, aclair, alu/alu etc. The design is worked based on the film to be used for packing. This machine is best used in all Pharmaceuticals Industry to pack products in Blister. This machine is highly adaptable to all weather conditions which makes it more reliable. Customers can avail this product from us at cost efficient rates.
Designed and manufactured in accordance with GMP standards and pharmaceutical requirements
Salient features :
High speed intermittent motion.
Plug forming for alu-alu (cold forming).
Compressed air forming for PVC (thermo forming).
PLC controlled operation with touch screen interface.
Pack advancement can be set through HMI
Product feeding by servo controlled drum feeder or by direct Channel feeding with brush feeders.
Hot perforation and embossing inbuilt with pack cutting station.
Easy slide in tools for cutting, perforation embossing.
Stereo type printing station.
Print registration control for pack to print.
Quick and easy format changeover.
Optional features :
Pin hole detection system
Non-filled camera system
Ink-jet printing system
Packaging Materials :
Base film thermoformable PVC, PVC with PE/PVDC, COC, ACLAR, PET
Cold forming -tri laminated aluminium
Lidding foil - heat sealable aluminium
Advance Features :
Vertical pack cutting

Sealed blister packs are cut in vertical direction. Embossing and perforation inbuilt at same station opposite to cutting tool.

Rotary pick and place

Vertical packs are picked by means of vacuum, while OK packs are ejected at 90° and rejected packs at 45°.

Rotary type drum feeding

Drum feeding by servo controlled motion, which synchronises accordingly with machine speed. Feeding of products can also be done by direct channel feeding.

PRC

This system is provided with EYE mark sensor to maintain the position of pre-printed matter of aluminium foil with respect to its formed cavities on blisters.

PRINTING SYSTEM

It is a pneumatic type stereo printing, consists of ceramic roller soaked with ink, stereo plate contacts with ink roller by linear motion and stamps on lid foil by pneumatic action.
Technical Specifications :

Max foil width

200mm

Max. forming advance

140mm

Base film thickness

Max 0.2 mm - 0.4 mm

Lidding foil thickness

Max 0.02 mm - 0.04 mm

Forming area

190 X 138

Speed

40 Cycles / min (Cold forming)

40 Cycles / min (Thermo forming)

Max forming depth

12mm

Utilities Requirement

Air consumption

35 Cfm at 6 bar pressure

Cooling water

150 liters / hour temp 8oC to 18oC

Power supply

20 Hp ( 15 kw), 50 Hz, 3 Phase + N+E
Contact Us
Gala No: B/14, Shiv Mangal Compound, Behind Shiv Prabha Building, Asalpha Village, A.G. Link Road, Ghatkopar (West), Mumbai, Maharashtra, 400084, India
Phone :+918061882310