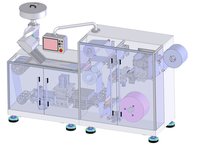 NT 200
Product Description
NT200 Blister Packing Machine is especially designed to provide more flexible and durable blister packaging services. It is constructed with excellent quality raw material with the use of highly advance engineering techniques. The Machine can work on various foils like PVC, PVDC coated PVC, Pet, PP, COC, aclair, alu/alu etc. The design is worked based on the film to be used for packing. This machine is best used in all Pharmaceuticals Industry to pack products in Blister. This machine is highly adaptable to all weather conditions which makes it more reliable. Customers can avail this product from us at cost efficient rates.
Designed and manufactured in accordance with GMP standards and pharmaceutical requirements.
Features:
1. The machine is suitable to produce blisters with various foils like
PVC, PVC/PVDC, PET, types of material for forming the blister
cavities. This machine is meant only for PVC/Alu blisters.
2. The machine is suitable to pack both tablets and capsules.
3. The machine is a flat forming and Rotary sealing model.
4. Product feeding is designed based on product shape.
5. Change parts can be fitted with minimum tools.
6. Trim is wound on a rotary bobbin.
7. The machine has Print registration control system in option.
8. Sealing is Rotary sealing and produces best quality of seal without
any leak issue.
9. Embossing station is available as option.
10. The machine is having two servo motors for web indexing.
11. Safety guards are made elegant for easy operation support.
12. HMI carry three level password control and can be assigned for
individual as per the need.
13. NFD option according to the need can be integrated.
14. The machine is in built with batch code printing unit.
TECHNICAL SPECIFICATION

Machine model : NT200
Hopper capacity : 15L
Format size : 220 x 160
Cycles of operation : 40-50 cycles per min
Power : 16 HP
Supply : 415V AC 50 Hz.
Air consumption : 25 cfm
Contact Us
Gala No: B/14, Shiv Mangal Compound, Behind Shiv Prabha Building, Asalpha Village, A.G. Link Road, Ghatkopar (West), Mumbai, Maharashtra, 400084, India
Phone :+918061882310